Key Features
Free Standing Gantry
X-Ray tube Manipulator
4-Belt Vertical Axis
Motor-Driven X and Y-axis
Turn-key Installation
Festooned Cable Management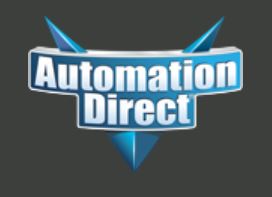 X-Ray Tube Manipulator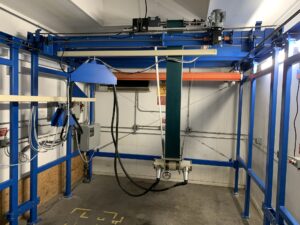 3 Axis Motor-Driven Gantry System
Job # 1737 April 2021
The Blue structure featured above is a stand-alone gantry that ARD Custom designed to fit in an Xray Vault. The System was designed for the specified capacities of a 500 Lb. hoist bridge and a 350kV X-ray tube bridge. The customer had a hoist rail that we were able to accommodate. The Gantry System was installed in an existing X-ray vault and had to be positioned and placed, for the most part, without the use of heavy equipment. The size of the doorway and the necessity to move sections by hand restricted the heaviest sections of the gantry to a max weight of 200 lbs. The installation took place in Laporte IN and lasted approximately 3 days from start to finish.
The gantry is operated by a pendant and driven by 90 VDC Motors. We chose components, like the 90VDC motors, that are nearest the radiation because they survive in that environment. We programmed the PLC, a BRX Do-more, to have features such as 2 speeds based on how long a direction button is pressed and end of travel limits. The X-ray tube bridge movement incorporates a roller chain as the drive mechanism for both the x and Y axes. The Hoist bridge rides on the same track as the X-ray tube bridge but is manually moved. A Limit switch was added in order to prevent an operator from driving the Xray tube Bridge into the Hoist Bridge. Festooning was incorporated into the design for cable management
Safety Features: End of travel limit switches, Vertical travel limiting system
Reach out to us if you have a similar project that you would like a free quote on!