Key Features
Custom X-Ray Vault
X-Ray tube Manipulator
4-Belt Vertical Axis
Motor-Driven X, Y, and Z-axis
Turn-key Installation
Festooned Cable Management
Custom X-Ray Vault Motorized Door and X-Ray Tube Manipulator for a 320 Tube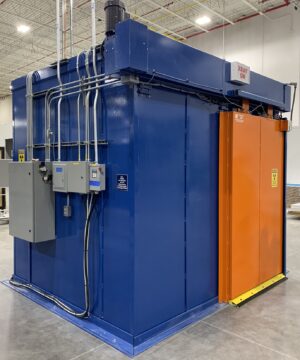 3 Axis Motor-Driven Manipulator System
Job # 1741.2 June 2022
This Custom Vault was built for a 320kV 13mA tube, the Steel-Lead-Steel Construction designed to shield secondary radiation. The Vault has a motor-driven Door as well as a 3 axis motor-driven X-Ray Tube Manipulator. The approximate dimensions of the vault are 10 foot wide by 8 foot deep by 9 foot tall. The interior has overhead lighting and duplex outlets.
The Door
Driven by a chain and has a pneumatic torque limiter as a safety feature in the event of a loss of power. Equipped with a bumper switch safety feature as a measure to prevent the door from closing on a person or part. Controlled by an inverter and Plc. There are 2 speeds at which the door operates: a slower speed approximately 4 (in) from end of travel, and a faster speed in between the slower speed envelops on either end of travel. The speeds can be set on the inverter so that a hard program is not needed if the speeds need to be adjusted. The Door has a "BRH" interlock for the X-Ray system. The doorway has a rollover threshold.
The Manipulator
Uses a wide 4 Belt construction for stability. Uses limit switches for end of travel on the X, Y, and Z axes. The gantry is operated by a pendant and driven by 90 VDC Motors. We chose components, like the 90VDC motors, that are nearest the radiation because they survive in that environment. We programmed the PLC, a Click, to have features such as 2 speeds based on how long a direction button is pressed and end-of-travel limits. The X-ray tube bridge movement incorporates a roller chain as the drive mechanism for both the x and Y axes.
The installation took place in Ohio and lasted approximately 5 days from start to finish.
Safety Features: Pneumatic Torque Limiter, Door Bumper Switch, End of travel limit switches, Vertical travel limiting system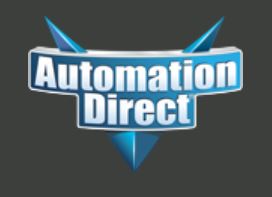 Reach out to us if you have a similar project that you would like a free quote on!